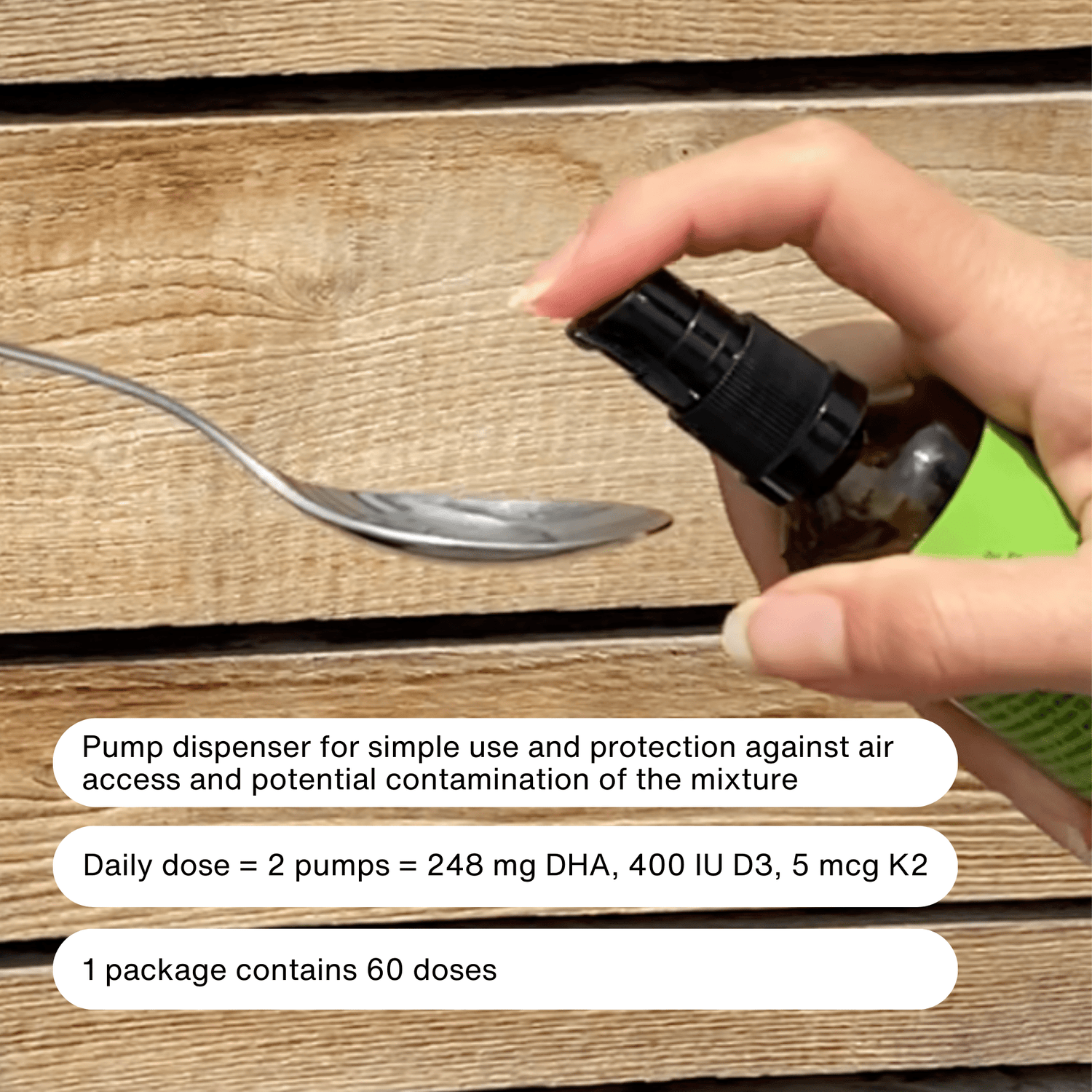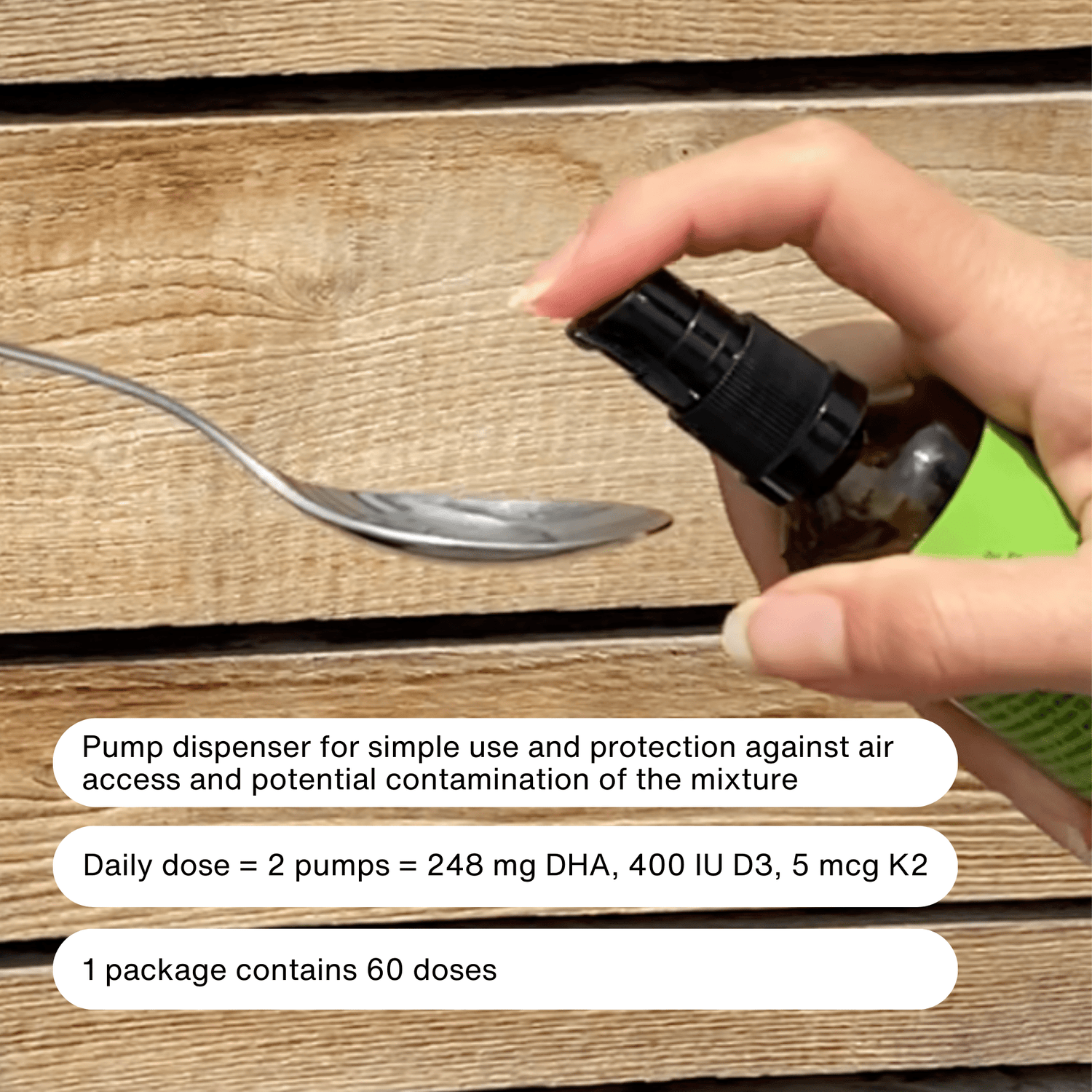 Unique formula containing the most deficient nutrients: omega-3 (DHA) + vitamins D3 and K2, essential for the healthy development of children. Purely from natural plant-based sources.
248 mg omega-3 DHA I 400 IU D3 I 5 μg K2 MK7
supports immunity & vision & bones & normal brain function 
premium microalgae oil (Schizochytrium sp.) rich in omega-3 (DHA)
vitamin D3 sustainably derived from algae
vitamin K2 obtained by natural fermentation of Natto
patented antioxidant technology - guarantee of oil stability

convenient pump dispenser
vyborne
Dvojrocnej som kupila,lebo je atopicka a musim povedat, ze som zostala prekvapena, ze sa jej koza uplne zahojila asi po vyse mesiaci pouzivania. Pre mna je to zazrak a konecne ma kozu hladku aku mala mat ako babatko a nikdy taku nemala. Chut jej nevadi vobec, mne vadila vyrazne a starsie deti mi ich nezjedia ani za svet. Takze sa potesim ked sa do buducna zlepsia chutove vlastnosti pri zachovani kvality.
Produkt deti uzivajii priblizne mesic, za me spokojenost.
Kids DHA + D3/K2
Ucinky produktu nemuzu hodnotit, to bohuzel nepoznam :) Detem ale nechutna, musim michat s dzusem, aby to snedly (olejova konzistence). Co ale hodnotim hodne spatne je davkovani pumpickou…doporucena davka jsou 2 stisknuti pumpicky. Na jedno stisknuti vyleti velke mnozstvi, na druhe stisknuti temer nic. Netusim tedy, jestli davkuji spravne. Navic to tim padem rychle uvyva…doporucila bych zmenit zpusob davkovani u vyrobce.
Bohuzel kvuli tohoto bych znovu neobjednala. Produkt tece a dochazi ke zbytecnym ztratam. Chapu, ze kapatko bylo z duvodu kontaminace a stability oleje nepriznive, ale pumpickove reseni je v tomto pripade velice nestastne. Uzivatelsky urcite.
Dobrý den, děkujeme za zpětnou vabzu. Jak správně píšete, hlavní důvod, proč jsme se rozhodli pro změnu obalové technologie u dětských doplňků je zachování kvality a stability oleje. U kapátka docházelo k vysokému riziku kontaminace oleje například při kontaktu kapátka s ústy. Je však neobvyklé, že při jednom stisknutí dostanete z kapátka jiné množství než při dalším stisknutí. Je také možné, že jste obdržela vadný kus. Předám na Vás kontakt kolegyni, která se Vám ozve. Děkuji. S pozdravem, Renata TRIME
Samotný produkt mi velmi vyhovuje, nemusím dětem dávat tři doplňky stravy. Ale s novou dávkovací pumpičkou moc spokojená nejsem, nějak to všude teče a nejde dát na lžičku.
Dobrý den, paní Kopečková, děkujeme za zpětnou vabzu. Důvod, proč jsme rozhodli pro změnu obalové technologie u dětských produktů je především zachování kvality a stability oleje. U kapátka docházelo k vysokému riziku kontaminace oleje, například při kontaktu s ústy, sliznicemi, atd. Nynější dávkovač zároveň olej více chrání před okolním vzduchem. Dalším důvodem změny obalu bylo občasné protékání původní lahvičky, jelikož víčko s pipetou nešlo dostatečně uavřít kvůli usazenému oleji a prokluzovalo.
Chápu, že uživatelsky nejsou nová balení tak přívětivá jako tomu bylo u pipety, ale věřím, že kvalita a stabilita produktu jsou na prvním místě a tyto nynější nedostatky tím kompenzují. Nicméně pokud najdeme pro produkty lepší možnost obalové technologie, určitě ji v budoucnu využijeme. Děkuji, Renata TRIME
Som s ním spokojná, dieťa ho neodmieta, na rozdiel od iných podobných produktov. Verzia s kvapátkom sa mi pozdávala viac, pumpičkou je problematické dávkovanie na lyžicu, ale chápem, koľko ľudí, toľko chutí.